Featured image
Skip featured image
Many of us lead busy lives, so having someone who can come and walk your dog for you during the day makes a huge difference. A good dog walker does more than just walk your dog round the block – they are experts in canine behaviour, form a close bond with your pooch and can alert you to any health issues that they might notice. In other words, they become an important and valued member of your dog's pack.
There are lots of options out there when it comes to choosing a dog walker. You could opt for someone who charges little and does it for the love of dogs, or a professional dog walker with an established business. Either way, the most important thing is to find a dog walker and a routine that is a good fit for you and your dog.
Understand how cost affects the service
The cost of a dog walker can vary considerably. You could pay up to £15 an hour for individual walks with a professional or connect with a local dog enthusiast who will walk your dog for free through a service like BorrowMyDoggy.
Either way, cost can be reflective of the kind of service you are looking for. A dog walking business is great if you want to know your dog is in experienced hands and covered by insurance. Many dog owners also value the group walk sessions which mean your dog gets quality socialisation on a regular basis.
Equally, low cost and free services don't necessarily mean a drop in quality – as a dog owner you will often establish close bonds with your dog walker and know that your dog is in the hands of someone that wants to spend time with them.
Look at reviews and talk to clients
If you're thinking about using a dog walker, doing your research is a must. You want to know your beloved pooch will be in good hands and the best way to check this is to speak to their existing customers. Does their dog look forward to walkies? Have they ever had any problems that could have been prevented by the dog walker?
Check qualifications
If you plan on using a professional dog walker, you'll want to check they have relevant qualifications. Whilst there aren't specific qualifications for dog walking, you would expect a professional to have qualifications in animal care, dog training and canine first aid.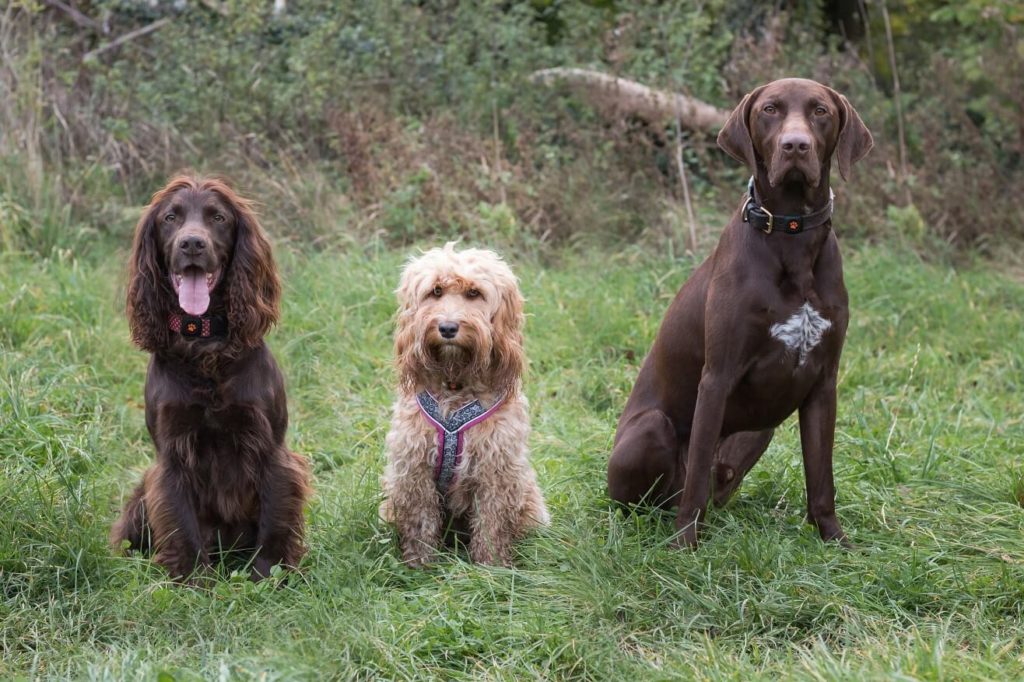 Check insurance
Before letting anyone walk your dog for you, check your dog is still covered by insurance, and, if you decide to use a professional dog walking service, check they are covered by relevant insurance as well.
Go for a test walk
Before leaving a dog walker alone with your dog, go on a test walk where you accompany them. Let them be 'in charge' of the dog – holding the lead, calling them back and so on. The way they interact with your dog will be a good signal of whether they will be capable of walking your dog – this is especially important with dogs who are strong on the lead, nervous or aggressive.
Ask the right questions
There are lots of questions you will want to ask your dog walker to ensure that they are prepared and knowledgeable. Make sure you know:
What times of the day they will take your dog out?
Where do they plan on walking your dog?
Whether they are comfortable handling medical needs?
What would they do in an emergency?
How long will the walks be?
Who will be walking the dog?
How long have they been walking dogs?
What are their training methods?
What types of dogs will your dog be walked with, and how many at a time?
How do they manage conflict between dogs when out on a walk?
Do they check all dogs are up to date with vaccinations and flea and worming treatments?
Do they wipe down your dog after a walk before letting them back into the home?
Check your dog is getting enough exercise
Once you've chosen a dog walker, you can use your PitPat to ensure your dog is getting the right amount of exercise. You should see a spike in activity when your dog is out with their dog walker that will show you your pup is getting enough exercise with them. If you don't see the spike in activity, it might be time to make a change!
Getting a dog walker is a great option for dogs who don't mind spending some time alone at home during the day. However, for those dogs that suffer from separation anxiety, doggy daycare can be a great option!
You might also like