PitPat Senior
PitPat Senior is a complete food for older dogs, promoting healthy joints, skin and coat while counteracting cell ageing.
Food your dog adores or your money back.
Free next day delivery when you order before 2pm.
Zippable bags to keep food fresh for longer.
No artificial flavourings, colourings or preservatives.
No wheat, soy, dairy or sugar.
Complete nutrition
Packed full of high-quality ingredients like premium poultry and superfood green-lipped mussels, our recipes are free from wheat, soy, dairy and sugar, and never contain any artificial flavourings, colouring or preservatives.
Young at heart
Specifically formulated to boost vitality, PitPat Senior is designed to support your dog's heart, helping to bring some of that puppy-like spirit back to the surface.
Counteracts ageing
Rich in antioxidants like vitamin E and Selenium to counteract cell aging and with amino acids to support their cardiovascular functions, PitPat Senior has all the ingredients to give your dog a new lease of life.
Joints, skin and coat
Quality oils and vitamins will give your dog's skin and coat a PitPat shine that's sure to turn heads in the park. And they won't just be looking good on the outside, they help keep their joints healthy too, so you can make the most of every moment.
No more guesswork, just perfect portions
Tell us about your dog
Head to the free PitPat App and tell us about your dog, such as their breed, age, weight, sex and whether they are neutered.
Personalise feeding
We'll tell you exactly which PitPat recipe to feed them and how much they need, based on what you've told us about your dog. And if they have a PitPat, we'll account for their activity levels too.
Get free delivery
Your dog's new favourite food will arrive on the doorstep the next working day when you order before 2pm, and you won't pay a penny for delivery.
Tuck in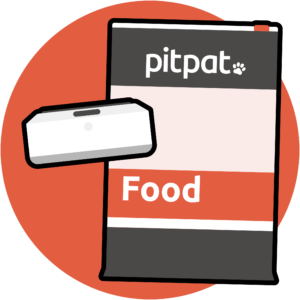 Weigh out your dog's portion using the PitPat Weighing Bowl or a set of scales and let them tuck in. Congratulations – you're an awesome dog owner!
Loved by over two million dogs
PitPat food is lovingly made by family-owned business Josera.
Josera has been making outstanding pet food with passion for 80 years. We carefully selected them to supply PitPat food because, like us, they believe every pet deserves the best.
That means top-quality and natural ingredients, formulated by expert nutritionists, with no nasties. No wonder over two million dogs are tucking into Josera food every day.
Planet-kind pet food
Josera is the industry leader when it comes to sustainability and has recently been named 'Most Sustainable Brand' by the Pet Sustainability Coalition awards.
This means all PitPat food is made in a fully carbon-neutral factory, with ingredients from sustainable sources. What's not to like?
Our partnership combines the best in exercise with the best in nutrition. So when it comes to your dog, we got you.
Only the best ingredients
Premium poultry for animals fit for human consumption provides a lean source of protein.
Superfood New Zealand green-lipped mussels are packed full of vitamins and minerals to support healthy joints.
Complete feed for senior adult dogs
Composition: whole grain corn, poultry protein (dried) 10.0%, rice, beet fibre, poultry protein (hydrolysed), poultry fat, minerals, chicory root (ground) (natural source of inulin),
New Zealand green-lipped mussel meat (Perna canaliculus) (dried).
Technological additives: Tocopherol extracts of natural origin (antioxidants).
| Analytical constituents | |
| --- | --- |
| Protein | 20.0% |
| Fat content | 8.0% |
| Crude fibre | 2.7% |
| Crude ash | 5.8% |
| Calcium | 1.1% |
| Phosphorus | 0.80% |
| Sodium | 0.50% |
| Magnesium | 0.10% |
| Metabolisable energy | 14.4 MJ/kg |
| | 3457 kcal/kg |
| Nutritional additives per kg: | |
| --- | --- |
| Calcium-D-Pantothenate | 50 mg/kg |
| Niacin | 90 mg/kg |
| Folic acid | 5 mg/kg |
| L-carnitine | 300 mg/kg |
| Taurine | 1000 mg/kg |
| Biotin | 1000 mcg/kg |
| Vitamin C | 200 mg/kg |
| Iron (iron(II) sulfate monohydrate) | 200 mg/kg |
| Zinc (zinc chelate of glycine hydrate (solid)) | 160 mg/kg |
| Manganese (manganese(II) oxide) | 16 mg/kg |
| Copper (copper(II) chelate of glycine hydrate (solid)) | 20 mg/kg |
| Iodine (calcium iodate anhydrous) | 2 mg/kg |
| Selenium (sodium selenite) | 0.25 mg/kg |
| Vitamin A | 24000 I.U./kg |
| Vitamin B1 | 15 mg/kg |
| Vitamin B2 | 20 mg/kg |
| Vitamin B6 | 20 mg/kg |
| Vitamin B12 | 100 mcg/kg |
| Vitamin D3 | 1800 I.U./kg |
| Vitamin E | 400 mg/kg |
FAQs
Worried your dog won't like the taste of PitPat Food? Try a free 150g sample and find out why 87% of dogs love it.
Every dog is different, and so is the amount of food they need to stay fit and healthy.
To get a feeding recommendation that is completely tailored to your dog, just download the PitPat app and set up a profile for your dog.
And, if you have a PitPat dog activity monitor, we'll even adjust their recommendation based on their activity levels.
No. If you don't have a PitPat, we'll give you a tailored food recommendation for free in our app. If you do have a PitPat, we'll also take into account your dog's activity levels.
No. All of our recipes are wheat free.