PitPat Food
No more guesswork, just perfectly portioned food.
Say goodbye to vague feeding guidelines on the back of food bags. Say hello to feeding recommendations that are precisely tailored to your dog. When you use the PitPat App with PitPat Food, there's no more guessing whether they're getting the right amount to eat. We got you.
Tell us about your dog
Head to the free PitPat App and tell us about your dog, such as their breed, age, weight, sex and whether they are neutered.
Personalise feeding
We'll tell you exactly which PitPat recipe to feed them and how much they need, based on what you've told us about your dog. And if they have a PitPat, we'll account for their activity levels too.
Get free delivery
Your dog's new favourite food will arrive on the doorstep the next working day when you order before 2pm, and you won't pay a penny for delivery.
Tuck in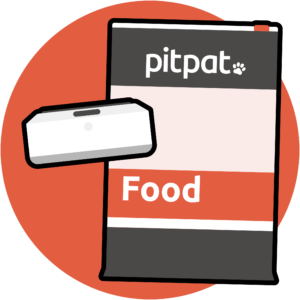 Weigh out your dog's portion using the PitPat Weighing Bowl or a set of scales and let them tuck in. Congratulations – you're an awesome dog owner!
Loved by over two million dogs
PitPat Food is lovingly made by family-owned business Josera.
Josera has been making outstanding pet food with passion for 80 years. We carefully selected them to supply PitPat Food because, like us, they believe every pet deserves the best.
That means top-quality and natural ingredients, formulated by expert nutritionists, with no nasties. No wonder over two million dogs are tucking into Josera food every day.
Planet-kind pet food
Josera is the industry leader when it comes to sustainability and has recently been named 'Most Sustainable Brand' by the Pet Sustainability Coalition awards.
This means all PitPat Food is made in a fully carbon-neutral factory, with ingredients from sustainable sources. What's not to like?
Our partnership combines the best in exercise with the best in nutrition. So when it comes to your dog, we got you.
PitPat Treats
Who's a good dog? Your pup, that's who! PitPat Treats are high in protein, have no nasties and are super tasty. So whether they've mastered a new trick or are just giving you those puppy dog eyes, let them know what a good dog they are.