Featured image
Skip featured image
Cockapoos may have first arrived into our world through a happy accident between the union of a Cocker Spaniel and a Poodle, and we're very glad they did! These little bundles of fun are very happy and affectionate pups, making them great for first-time owners, families, and people who just love to love.
Bringing one of these little guys home for the first time can be an exciting but daunting experience, especially for first time owners.
That's why we've put together a tailored checklist so you're fully prepared for the big day when your Cockapoo puppy comes home with you.
A crate and/or a comfy dog bed (Top tip: Many Cockapoo puppies love having a crate to go to when they need to sleep or relax, especially if you have children in the family or other pets – make it an inviting, comfortable space for them and make sure they aren't disturbed whilst in there.)
Food and water bowls
PitPat Puppy Food (Top tip: Our recipes have been carefully formulated by expert nutritionists so your new Cockapoo puppy can get everything they need. It even works alongside our app to give exact feeding recommendations that will change as your pup grows.)
PitPat Treats (Top tip: PitPat Treats are high in protein and have no added grain and no artificial colours or preservatives. They're rich in Omega 3 to help support your puppy's joints through its early stages and are pawfect for training.)
Collar with a tag (Top tip: It is a legal requirement in the UK to have a dog tag with your name and address engraved. We also recommend including your telephone number. Think carefully about whether you include your dog's name, as this could inadvertently help thieves.)
Harness and Lead (Top tip: There is a huge range of leads and harnesses on the market – choose something comfortable that is also strong and sturdy, and consider getting a long training lead as well.)
Poo bags
Puppy house training pads
Selection of puppy toys (Top tip: Cockapoos are a very playful and high-energy breed, so you'll need a range of different toys to keep them busy. Get puppy safe toys that can withstand a good chew and enrichment toys like Kongs or puzzle feeders to get their brains working.
Grooming tools (Top tip: Cockapoos can have different types of hair so it's important to take this into account when grooming. Get them used to being bathed and brushed at home as well as at professional groomers, which they'll need to visit regularly from the day they come home with you.)
Dog toothpaste and toothbrush
Dog shampoo
PitPat dog activity monitor (Top tip: It's important not to over-exercise your Cockapoo puppy when they're young. The best way to keep track of their activity is by using a made-for-dogs activity monitor like PitPat.)
Flea and worming treatments (Top tip: It's almost always better to get recommendations from your vet during your puppy's first check-up, as they can advise on dosage and brand)
Blankets (Top tip: A couple of soft blankets specifically for your doggy can be used in their crate or bed and to cover your furniture where you let them sit.)
Towels (Top tip: Have a few of your old towels set aside especially for your dog, so you can dry them off when wet or towel them down when they're coming in after a muddy walk!)
You're all set! Once you've gotten all the things your new Cockapoo could possibly ever need, it's equally essential to consider what else your puppy will need to keep them happy and healthy.
Find a local, reputable veterinary surgery and get them booked in for vaccinations and a general check-up.
Take out pet insurance, paying close attention to the small print so you know exactly what types of expenses are covered (such as ongoing conditions). Psst – did you know you get a FREE PitPat when you take out dog insurance with Pet Protect?
Arrange to have your puppy microchipped at your local vets (or make sure you update the microchip if the breeder has already sorted it.)
Sign up for local puppy socialisation classes. The best ones are often run in veterinary surgeries and are managed by a qualified behaviourist or veterinary professional, ensuring your puppy gets a pawsitive start.
Puppy-proof the home – move anything harmful out of their reach (such as cables and household chemicals) and any items that they might damage (such as your favourite pair of slippers!) Consider installing wire gates if there are areas of the home that you don't want your puppy to venture into.
Prepare the family – explain to young children that they need to be calm and gentle with your puppy and when to leave the puppy alone.
Secure the garden – check the fences for any puppy-sized holes that they might slip out of and remove any poisonous plants.
If you rent your home, make sure your landlord is aware that you will have a dog, and ensure that you have their permission in writing.
Arranging for some pawternity leave – take some time off work to help your Cockapoo puppy settle in and arrange dog sitting or daycare for them if you're going to be out of the house for long periods of time.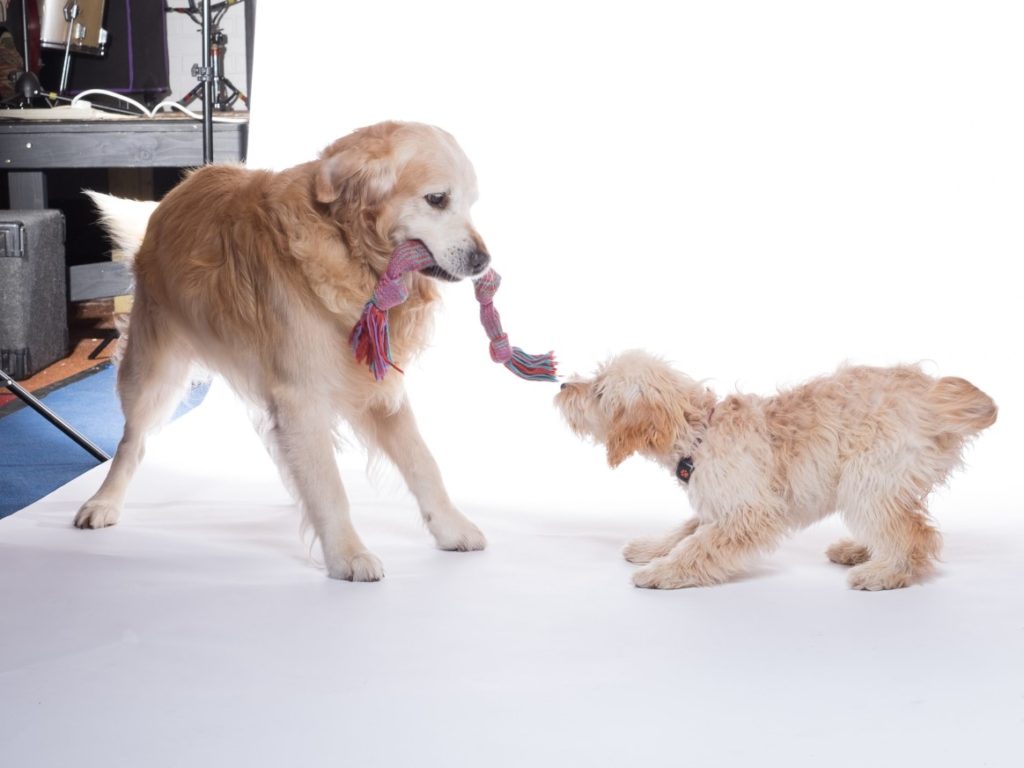 Here at PitPat, we're all about going that one step further for dogs and their owners.
The PitPat dog activity monitor is designed to take the guesswork out of puppy parenting. Find out how much time they spend walking, running, playing, resting, and pottering, so you can make sure they're getting the best start in life. We'll even tell you how much food they need to grow up fit and healthy!
Sound good? Get yours today for just £39.
You may also like…