Featured image
Skip featured image
Technology is a key part of our lives – whether you're using a Fitbit to track your activity, a home device to read recipes back to you, or a smart doorbell to keep an eye on visitors. We're also using technology to help us look after our pets, keeping them healthy and happy. With new pet tech products emerging every year, here is our round up of the very best of 2020.
PitPat Dog Activity Monitor
Is it bold of us to put our own product at the top? Maybe. Do we think it's one of the best pet tech products out there? Absolutely.
PitPat is an activity monitor for dogs – think of it like a Fitbit but made for your dog. That means it's super robust, waterproof, and ready to withstand all your dog's adventures. Our smart technology means you can accurately monitor your dog's daily activity, as well as easily keeping a log of their weight – so you can ensure they are getting just the right amount of exercise.
Find out how much our customers love PitPat on our reviews page.
Furbo dog camera
Furbo is a smart dog camera that means you can see and even interact with your dog whilst you're away. It's a winner for dogs (or their humans) who suffer from separation anxiety, meaning that time alone becomes a little more bearable. It even dispenses treats on your command!
Automatic Ball Launcher
Does your dog love playing fetch? If you're tired of swinging your arm, you need an automatic ball launcher. Simply place the ball in the launcher, set the distance and watch your dog chase. You might have to try extra hard to drag them away from this one though!
Wickedball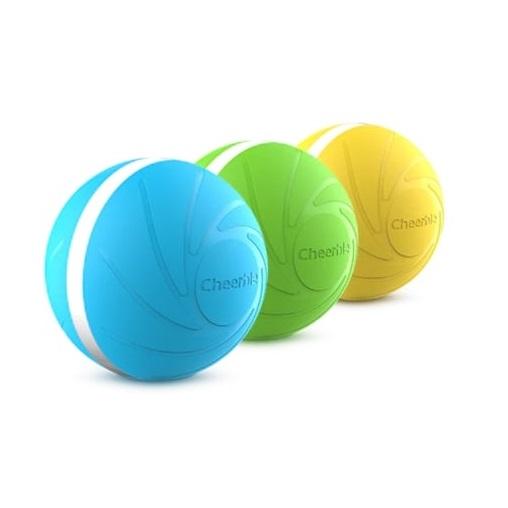 The Wickedball is a smart ball that is pawfect for keeping your pet entertained whilst you are away. You easily set it up and it will roll around for 10 minutes of playtime at a time, before pausing for half an hour, and it can even dispense treats. The ball itself is waterproof as well as being bite and scratch resistant, so you don't need to worry about leaving it in your pup's hands!
Pet food dispenser
This pet food dispenser allows you to add your dog's next 6 meals and program the times they need to eat. This is perfect for maintaining their routine, especially if you need to leave them alone for a little while. Of course, it's no substitution for the regular company, attention, and exercise that they need.
As the world of pet technology expands, so do the range of products available to keep your pet healthy and happy. Get started today with a PitPat dog activity monitor, and start keeping track of your pet's activity and weight with our easy to use app.