Featured image
Skip featured image
Everyone knows that dogs make pawfect hiking companions, but it's fair to say that there is a bit more preparation that goes into a hike than your normal walkies.
To make it an adventure that you can both enjoy, there are our top tips for hiking with your dog.
Plan ahead
If you're heading out on a hike that you've not been on before, it's always best to plan ahead. Map out your route and check for features that might be slightly trickier to navigate with your dog (like crags.)
Check the weather
Knowing the weather forecast and being able to keep track of any changes is especially important if you're bringing your pooch hiking. They might struggle in particularly hot or cold weather, so you'll need to be prepared for every eventuality.
Choose a hike appropriate for you and your dog's level of fitness
If you're new to hiking, it's best to choose a hike that reflects your level of experience and that of your dog. If your dog is used to 30-minute walks on the lead around the block you'll need to gradually build up their fitness before attempting that day long hike up a British mountain. You can use a PitPat to measure how much activity they do each day, so you can gradually increase their activity levels day-by-day.
Accept that hiking isn't for all dogs
Whilst many dogs love a jaunt up a mountain and are more than capable of joining you on a hike, some dogs just aren't cut out for it. Dogs who may struggle on a hike include those with preexisting medical conditions, breathing issues, joint problems, as well as puppies and older dogs. Ultimately, if you are in doubt, consult your vet before planning your adventure.
Be prepared
When setting out on a hike it's really important to be fully prepared for all eventualities – and taking your dog means you'll need to take extras for them as well.
For you
Sturdy walking boots
Layers of clothing to keep you warm, cool, and dry, for changeable weather, preferably in highly visible colours
A map and compass
A mobile phone with full charge
High energy snacks, like protein bars
Plenty of water (at least one litre for every two hours, and more in hot weather)
A first aid kit
For your dog
Poobags
Plenty of dog treats
Collar, lead, and harness
Dog jacket, if needed for cold or inclement weather
Additional water, and a collapsible water bowl
Know your canine first aid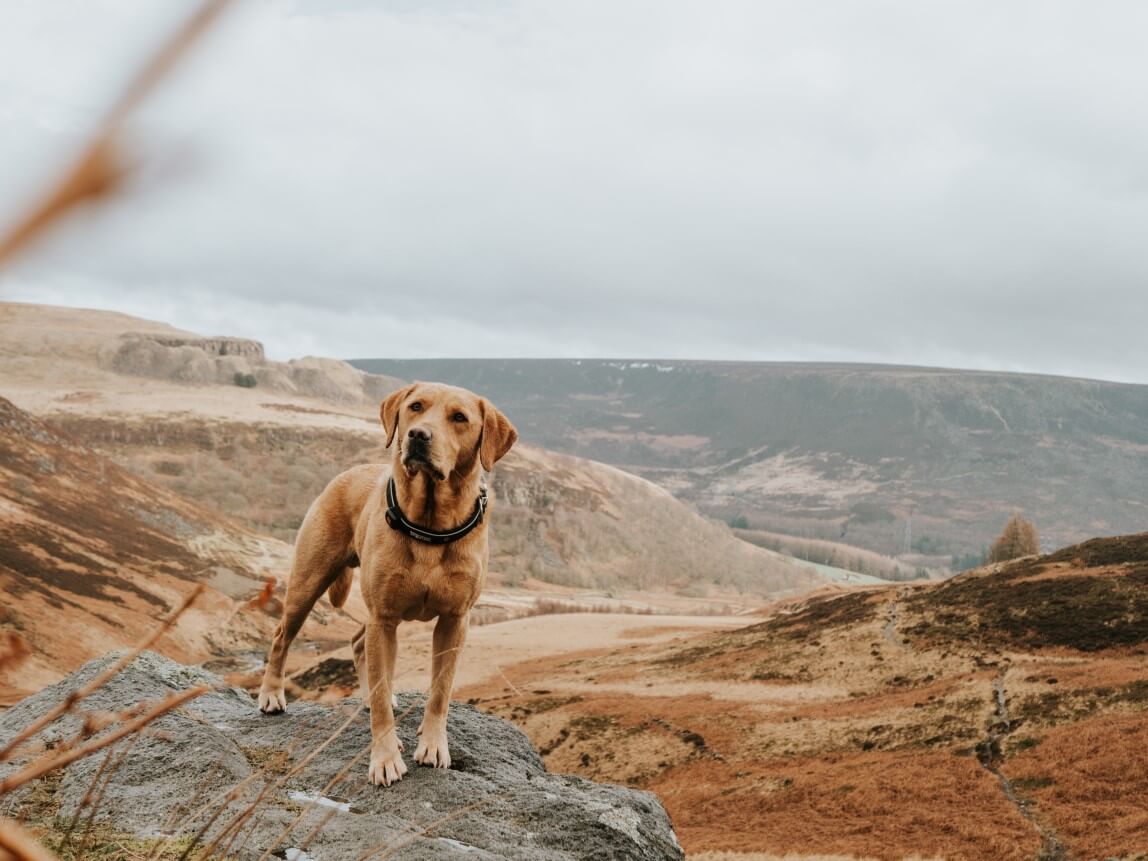 All sorts of accidents can happen on the side of a mountain, so it's really important that you know your canine first aid. There are plenty of courses available – at the very least you need to be able to provide first aid for injured paws, sprains, and cuts. You should also be able to recognise the early signs of heat exhaustion and know how to treat and prevent it.
Have a rescue plan
You should always have a rescue plan in place – that means you need to know what you will do if you or your pooch suffers an injury that prevents them finishing the hike. This should include:
Hiking with others who can help in the event of an accident
Knowing how to contact mountain rescue if you cannot get off of the mountain
Knowing how to navigate in poor visibility
Being prepared to carry your dog out if they are light enough
Being prepared to turn back if the weather changes and you are unprepared
Stick to the countryside code
The great outdoors is there for everyone to enjoy, and to make sure that we take care of it there are a few rules you should stick to when out on the hills. These include:
Leave no trace – that means leave no litter, pick up your dog's poo and bin it at the next dog poo bin you come across, and don't move vegetation, rocks, or boulders.
Take only photos and memories – that means not removing flowers, vegetation, rocks, fossils, or anything else (other than litter if you come across it!)
Stick to the paths and trails – in England, Wales, and Northern Ireland there is not a default 'right to roam'. This means that, on the whole, you need to stick to the paths. This helps protect the habitats in the area, letting the flora and fauna thrive. In Scotland, there is a right to roam so you can pass through most areas on foot.
Keep your dog under close control and observe all seasonal signage – this means keeping them on a lead when required (such as if there are livestock or nesting birds that they might disturb) and ensuring they have fantastic recall if you intend to let them off lead.
Don't have BBQs or fires.
Leave all gates and property as you find them and park considerately
If you're planning on combining your hike with an overnight camp, don't forget to read our guide to camping with your dog.
You might also like