Featured image
Skip featured image
After spending months on lockdown it's no wonder that the nations pet owners are ready for a holiday – and, with international travel restrictions in place, loads of us are turning to UK holidays for our fix of summer this year.
And when you're headed to the beautiful corners of the UK, why not bring your pooch along for the ride? No staying at home for them this year – they can join in on all the fun.
Here are our top picks for dog friendly holidays here in the UK.
Dog friendly cottage holidays
Our favourite type of dog friendly holiday is the humble cottage. Whether you're heading North or South, you'll find charming holiday homes that are 100% dog friendly, just make sure you get booked in quick to avoid disappointment. PitPat Life members can even benefit from perks with Pets Pyjamas, one of the UK's leading dog friendly travel agencies. Here are our favourite picks:
Budget Pick
A smaller budget doesn't mean you need to compromise on quality. The aptly named Yapham Cottages on the North Coast of Devon are pawfect for dogs and their humans – step out straight into wonderful walks that your pooch will love or relax in the enclosed garden enjoying the wonderful landscape views – what's not to love.
Adventure Pick
For those looking for a cottages with plenty of adventure on their doorstop, it doesn't get much better than the Riverain Coach House. With access to the Penines and the Lake District, this wonderful cottage makes the perfect base for adventures out in the hills. Once you're back, unwind in their luxurious bedrooms, sit round the roaring fire, or enjoy the pretty gardens.
Dog friendly forest holidays
A cosy wooden cabin after a day out walking in the most beautiful forests in the UK – sounds pawfect to us. PitPat Life members can even bring their dog for free when they book with Forest Holidays.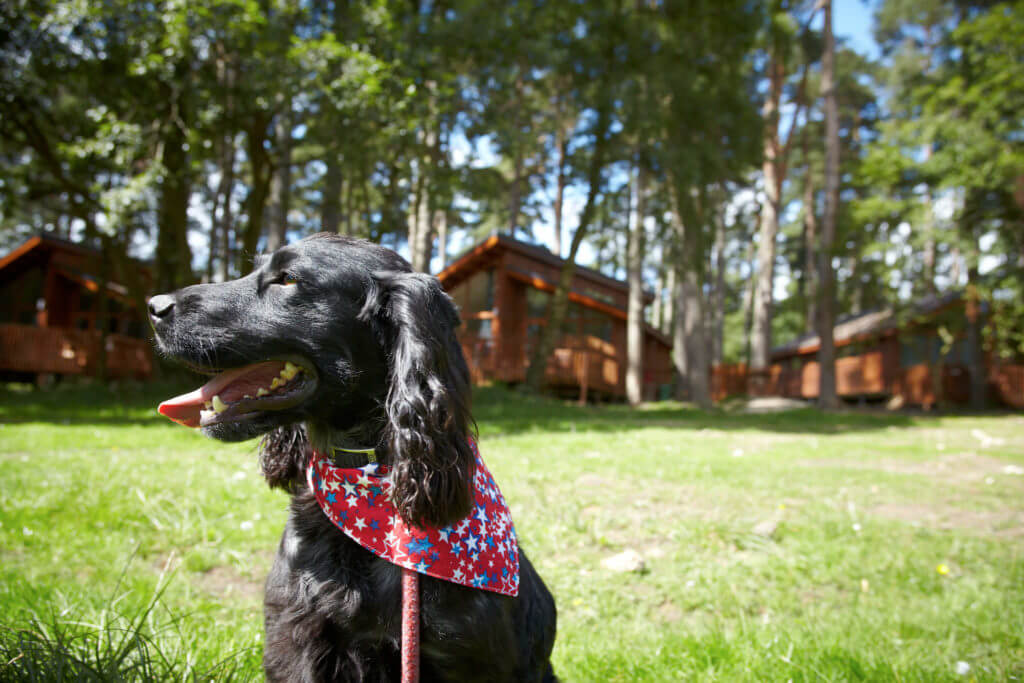 For Adventurers
Beddgelert in Snowdonia is in a sheltered glade, and with just 16 cabins, you won't feel like you're on a massive park. Their cabins have everything – hot tubs, saunas, luxurious touches – and you can even bring along your dog. What's more, you're amongst some of the most dramatic landscape that Wales has to offer, with loads of dog-friendly activities on your doorstep.
For Families
What could be more exciting than staying in a treehouse? The Golden Oak Treehouse found at many Forest Holiday locations will make you feel like you're living in a fairy tale. From the cosy log burning stove, to the hot tub, these cabins have everything you need for a family- and dog-friendly stay. The master bedroom is even separated from the main cabin by a rope bridge, giving mum and dad that extra little bit of privacy. Our favourite location is in the Forest of Dean, where there are tons of activities to keep you and the kids busy all day long.
For Couples
If you're planning a romantic getaway, the Golden Oak Hideaway is the perfect cabin to let you wind down and reconnect. With thoughtful touches from the hot tub, bath deep enough for two, hammock and a gas BBQ, there's everything you would want for a romantic holiday – and don't worry – there's plenty of room for your fur baby and all their stuff as well! Our favourite location is Deerpark in Cornwall, thanks to the picturesque millpond setting that offers extra privacy without compromising on the views.
Dog friendly hotels
If self-catering isn't your thing, there are plenty of hotels who not only allow dogs to join you – they pawsitively encourage it! A stay in any of these hotels means your pooch will be treated like the VIP that they are.
Luxury Pick
Widbrook Grange are truly pet-friendly. Your pet can stay by your side all day long, even joining you for dinner served up by World Champion Head Chef, Sandor Szucs. If your pup is celebrating a special occasion, just let the Widbrook team know in advance and they'll arrange a party in the farmhouse complete with pupcakes, party hats and bandanas. The idyllic retreat leads out onto acres of gardens for you and your pup to explore and recent renovations means the rooms are top quality.
Budget Pick
The Amble Inn in Northumberland is a relaxed hotel that will welcome your pooch with plenty of belly rubs, treats and more. Their staff will be able to point you in the right direction for the best walks over in the area, and in the evening your dog can join you for some quality pub grub in the bar or have a nap in your room whilst you use the restaurant. The rooms are spacious and understated, with outdoor access for your dog to enjoy.
Dog friendly campsites
Not only is the adventure of camping great for all the family, your dog will love it too. There's nothing quite like sleeping under the stars and waking up with the sun.
Before you head out camping, make sure you read our guide to camping with your dog. Then, check out these great dog-friendly campsites:
Slapton Sands
Slapton Sands is a stone's throw from dog friendly beaches, as well as two pubs that also welcome dogs. There's a designated dog walk on site and, if you don't fancy bringing your own tent, you can hire one of the ready camp tents on site.
Moffat
With access to some of the finest hillwalking in Scotland, Moffat campsite is a must for avid hikers and their furry companions. Nearby you'll find castles, waterfalls, and spa towns, so you won't be short of things to see and do, and your pooch can join in on the fun.
Chertsey
Just 50 minutes out of London, Chertsey campsite is pawfect for a weekend getaway with the family and your dog. Situated on the banks of the River Thames, you can enjoy walks along the canal paths as well as being close to plenty of dog friendly attractions.
Thinking about going abroad?
Going abroad with your pooch is no small undertaking, but it can be done. Before Brexit, travelling with your dog to EU countries was relatively straightforward, requiring them to have a pet passport which showed all their vaccinations were up to date. After the 1st January 2021, things could get more complicated, with lots of forward planning.
To find out more about what you would need to do to take your dog to the EU after Brexit, check out the governmental guidance.
Don't forget that the disturbed routine your dog has on holiday can mean that they don't get enough exercise, or even end up getting a little too much. You can keep an eye on all their activity using a PitPat dog activity monitor – and why not sign up to PitPat Life and get fantastic perks like discounts on dog friendly holidays plus much more!
You might also like